A full month of eventing in August
West Wilts
After a very busy few weeks Ginny and the support party were off on the road again with an almost full lorry to West Wilts to compete in the BE100 with Bobby Dazzlerman, Shannondale Sparky and KEC Blue Diesel as well as Laura Simpson and her horse Cabalva Rose.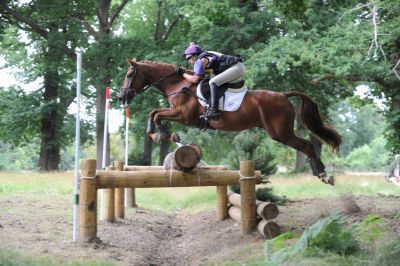 Bobby Dazzlerman did an ever consistent test to score 32, followed by a disappointing round Showjumping which was a bit out of character, never the less a good clear cross country.
Shannondale Sparky in his second event with Ginny did a beautiful test to score 31, followed by a great double clear and excitingly finished 4th in his competitive section winning lots of pampering goodies for the Ginny!
KEC Blue Diesel is coming together on the flat and scored 30 in his dressage test, with just a couple of unlucky rails in his weakest phase during the Showjumping but always improving. He followed this with a brilliant cross country to finish just out of the top ten. 
Somerford Park
Just two days later Ginny headed to Somerford Park with Zztop and Creeslough, Ginny commented that the beautifully built course and brilliant ground made the event very enjoyable.
Zztop did a lovely test in the Novice but sadly the judge did not seem to agree. Ginny was very disappointed with his mark as the test deserved a much more competitive mark, she was still pleased that he has come a long way in the very short space of time he has been eventing. Putting this behind them he Showjumped very well for a clear and followed this up with a second clear but with time penalties due to a steadier round as Ginny thought they would be out of contention after the dressage score. Nonetheless, a good finish with 13th place.
Creeslough has improved so much from this time last year where he was competing in the 2*. Ginny chose to compete him in the intermediate as this event. His dressage test was very active and received 33 marks. He had a minor error in the Showjumping after a little confusion between Ginny and him but then regained the round to jump well. The cross country was up to height and technical, where Ginny and Creeslough were sadly caught out at a tricky combination at fence seven - a corner to an angled skinny brush. Ginny felt slightly under powered and knowing the distance was likely to ride short, Ginny sailed straight past the skinny hedge. This was an unfortunate and rare mistake from Ginny for which she took the blame for.
Solihul
A very good day for Ginny Howe Eventing at Solihul on Sunday.
KEC Blue Diesel in the BE100 did a pretty much foot perfect test to score 25, followed by an exciting double clear to finish second in a very competitive section and felt fantastic around the cross country course at Solihull.
Ginny said Shanondale Sparky also felt on brilliant form, completing a fantastic test to score 31 in his first Novice. This was followed this with a silly four faults and a great clear cross country making the step up to Novice feel very easy. In his first Novice, Ginny didn't feel wise to push him for the time in his cross country so he picked up a few time penalties. Nevertheless, the combination finished in 13th place.
It was a great day of competition for Ginny but she wished to express her condolences to the family and friends of Tom Gadsby, commenting:
I can't help but think about the very sad loss to the Eventing world and particularly for New Zealand. A terrible rotational fall at Somerford cost the young rider Tom Gadsby his life. I did not know Tom myself but heard so much praise for his talents and enthusiasm for eventing. It was a very sad loss with thoughts and best wishes going out to everyone who knew him.