2013 season round up
It has been a fabulous season for Ginny, read what she has to say about it:
So it has been a fantastic season for me, although sadly not finishing on the high that I had hoped but nevertheless, the last few months have been memorable ones.
I have welcomed several new owners to Ginny Howe Eventing, some of which with unproven horses. Seeing them go from strength to strength has been fantastic and it has been a pleasure to produce and take to the next level.
I am very lucky to have such supporting and generous owners which certainly became even more apparent when I was injured at Little Downham. The horses are just lovely, next year is going to be a great one and I already can't wait to get going again!
My fantastic sponsors this season have been just amazing, keeping everything running smoothly and have always there to help. Their support and advice is invaluable and I really could not be competing at the level I am without them. So thank you all!
New ride Zztop, qwned by Miss Sarah Jane Ford, had had no previous eventing form when he came to me earlier this year. He had a Showjumping background and has now taken very well to eventing and certainly loves the cross country. His dressage is work in progress and after a winter's training it will be up to the same level as his jumping. This season he has quickly progressed through the grades proving bold and enthusiastic; he has gone from BE100 to Intermediate in a season (although our Intermediate at Little Downham did not going as planned). He has had some good results in his first season despite the dressage being below average, but he has come a very long way in only a few months. With plenty of Dressage training for him he will be an exciting one for 2014.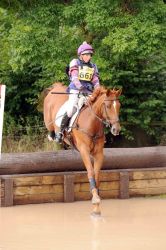 Another new ride, six year old Shannondale Sparky, owned by Mrs Louise Weir has been an absolute pleasure to ride. He has had previous form at BE100 and was soon upgraded to Novice with me. This season he showed consistent form at this level being placed in two of his three events. He is trainable on the flat and has fantastic scope to a fence making it all feel very effortless. After a winters training he will come out next year even stronger and more established which will be very exciting for the 2014 season.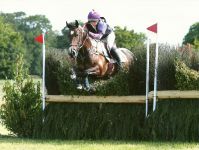 Six year old Bobby Dazzler Man, owned by Miss Sarah Inwood, has had a great season. He had minimal eventing experience other than as a four year old and has gone from strength to strength. With a very consistent record this season at BE100 - he is accurate on the flat which almost always puts him in the placings. His highlight this season included a win and many top 3 placings. I plan to give him a winter of BSJA and training in his Showjumping to help him become more consistent as he develops in strength and technique.  He will also get out into the hunting field this winter which no doubt he will absolutely love.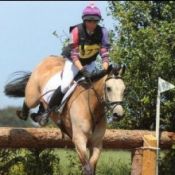 I introduced Strattonstown Smartie, a six year old owned by Miss Millie Kaye to eventing late on in the season. He has taken to it very well sadly missing his third run at BE100 due to my injury but will be out BSJA and British Dressage this winter with Millie where she will then take over the ride in 2014 event season.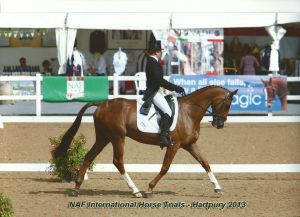 Greenlough Dave, a seven year old owned by Mrs Claire Jones, has had an incredible season. This was his first experience of eventing after being produced since a five year old by Claire and coming to me at the beginning of the event season. He has taken everything in his stride as if he has done it all before. Hartpury CCI* was the ultimate reward after just six Novice runs to gain his qualification. He is a cross country machine having never had a fault and a pretty impressive Showjumper with the odd pole from exuberance. Hartpury was a big test and he was incredible producing a 54 Dressage, double clear inside the time to finish 18th in the huge and competitive section. His dressage at this stage is his weakest phase but with more training and establishing what he has learnt this year, next season he will be extremely exciting. I am hoping to upgrade to 2* mid season.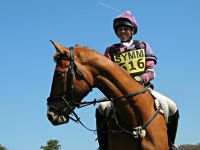 My own six year old Hamilton has also had a brilliant season and has had an educating year. He upgraded smoothly to CCI* at Hatpury with a very competitive placing of sixth to finish on his dressage of 50.4. He has grown up a lot this season and I look forward to upgrading him to Intermediate and 2* next season.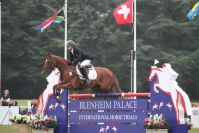 Creeslough has exceeded expectations this year, with his ultimate aim being Blenheim CIC*** it was looking a bit ambitious considering his stop start season but he upped his game and completed Blenheim with just a sill 20 pen at a corner. Nevertheless, he proved he can make the step up to 3* even with minimal preparation. Next year he will consolidate this form and came back stronger and aim to be competitive at that level.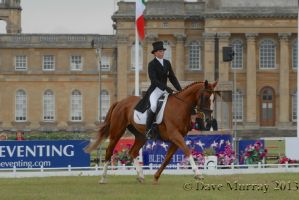 Eires Rock has certainly improved on the dressage side of things this season. Notoriously particularly tricky to ride on the flat, I enlisted the help of trainer Richard Waygood and he seems to be settling down at the grand age of 14! With lots of improvements to be had this winter, I look forward to next year. His jumping is fantastic and he made Blenheim CCI*** feel very easy despite losing a shoe at fence 5. Consequently I had to run him slower than I would have liked but he finished fit, strong and very well. He will be aimed at 3* at the beginning of the year and if all goes to plan have the aim of 4*.
This winter I have a number of young horses I hope to produce when I am back riding again which will be exciting for next year. In the meantime, plenty of hunt balls and Christmas preparation to be getting on with will be keeping me busy.
There is also opportunity to buy into exciting event horses and become part of the Ginny Howe eventing team. Horses are available at all levels, with one in particular that is already competing at 3* level. This could be a very exciting horse and with the right  financial backing, is bound to be a regular at the top events. If you'd like to enter into a syndicate of this sort and find the opportunity interesting, please contact me direct or email at ginnyhoweeventing@gmail.com.
Once again i really cannot thank my team enough for their support this season. Especially my family for keeping everything running smoothly whilst I am away competing; my Sponsors for their ongoing help and support; my owners without whom I would not have such lovely horses to ride; and not forgetting all BE organizers and volunteers, without you the sport could not run.