Gatcombe- Festival of British Eventing
A very soggy Novice championships at Gatcombe Park. Echo P and Cruise on Inny both did lovely tests in a very competitive section. Echo P lay 18th overnight and Cruise On Inny 15th, in a section of 60 horses.
On to the show jumping and both boys felt very grown up in an atmospheric arena. Echo P added 2 unfortunate poles to his dressage of 31 and Cruise On Inny adding a very unlucky 4 faults to his score of 30. The heavens then decided to open for the cross country... thunder, lightning and rain! Echo P felt very mature through all the questions and had a great round, for a steady clear. In only his second season eventing he has learnt so much! Cruise On Inny feeling rather cheeky and on very good form. He finished extremely well, feeling like he could have gone a second time, just a cheeky 20 penalties at the first water skinny brush but good preparation for Bicton CIC**.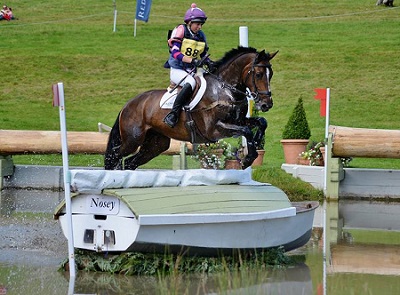 Smiths Lawn
2 lovely horses in the Novice, a first run on Balladeer Kahtanya and 6yo A Real Blast. Balladeer Kahtanya was 3rd after dressage on 28.8 and followed this up by a super double clear to finish 2nd. A Real Blast was in her second Novice, showed a much improved dressage, a few baby moments SJ and a bold XC just being caught out by one combination. But lots learnt for her on still low mileage.
The lovely Wilco was in the BE100. He performed a smart test but harshly marked for 34, but followed this with an easy double clear inside the time to finish 9th.