Riders bare all to get inspirational Claire walking
Ginny plays her part for a fabulous cause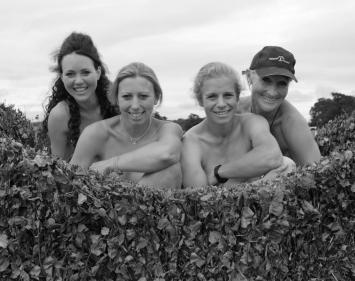 Leading names from the eventing, show jumping, dressage and racing world have joined forces bared all for the Riders Revealed 2012 calendar to get Claire Lomas, an event rider who was paralysed from the chest down in a competition injury in 2007, walking again. 

Since her accident four years ago Claire has been an inspiration to many. That day in 2007 changed her life forever, but she has been ever determined and has taken up skiing subsequently being selected for the British Disabled Development Squad. She has also set up her own jewellery business, works in a ski office and has married partner Dan and they now have a beautiful little girl, Maisie. 

Claire is determined that she will one day walk again, and aims to do this with the aid of a ReWalk suit, a new robotic suit which will be available in the UK soon. Claire hopes to have the suit in time for 2012 London Marathon, and if this is the case she plans to walk the 26-mile route. 

The Riders Revealed calendar features a total of thirty-three leading names from the equestrian world including Mary King, Geoff Billington, Mark Todd and Blyth Tait. It has taken five months to produce with riders being photographed all over the country, and it is now available to purchase for £10 plus p&p at http://www.ridersrevealed.co.uk/default.html .

"They have been amazing," Lomas said of her former colleagues. "Some took more persuading than others, some ignored me completely, and others were asking to be in it! I can't believe how brave the riders have been, the photos are fantastic. I am so grateful to everyone who has helped with this calendar, and everyone who buys a calendar." 

There was an official launch of the new calendar at the Land Rover Burghley Horse Trials in the Celebrity Talk Arena. Claire hopes to raise £35,000 for the ReWalk suit, and any other profits over and above that amount will go to Spinal Research.