Purston Manor and Gatcombe International
Purston Manor
After a busy week at Blenheim Ginny took the younger horses out for their party.
Strattonstown Smartie, still fairly new to the world of eventing, competed in the BE100 and took everything in his stride. He did a nice dressage test but is still a little green in places. This was followed by an unlucky rail in the Showjumping but a grea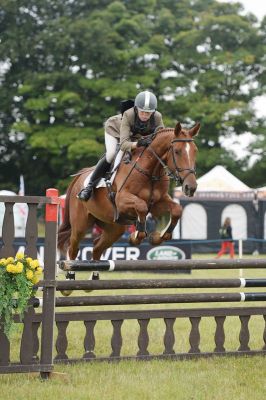 t clear cross country to finish tenth in his section.
Ginny had ex-Blenheim horse, Gamblers Image, back for a few runs at the end of the season. He scored an impressive 27 marks in the dressage with a minor blip in the Showjumping followed by a brilliant clear Cross Country. Ginny commented that it was an absolute pleasure to be back on him and she loved every minute.
Zztop competed in the Intermediate Novice. He did an  improving dressage and jumped a fantastic clear in the Showjumping which put him in a competitive position going in to the cross country. Ginny and his owners decided to run him faster than he has ran before. He took to this very well but was slightly too bold at the influential angled brushes and had a very frustrating run out. 
Gatcombe International
It was the turn of Shannandale Sparky and Hamilton at Gatcombe the following weekend.
Sparky was on great form with an ever accurate dressage to score 32 which was followed by an immaculate double clear cross country. He is now so established at this level making it look very easy with a finish in tenth in his section. He will be a seriously exciting horse for the future.
Hamilton was having his first run since Hartpury and was somewhat cheeky in his dressage scoring 35 marks. He jumped very well for a brilliant double clear to finish in 13th place.