First event of the 2013 season
Following a successful winter of lots of Showjumping and Dressage with some wins and plenty of placings, Ginny's horses are primed for the 2013 Event season.
Ginny kicked off the 2013 Event Season at Aston le Walls on Monday with a fantastic start.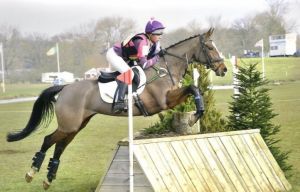 Empyrean, Ginny's lovely five year old mare excelled in her first ever event, doing a great test and a fantastic double clear to finish on her dressage score of 34 and placed 8th.
Cabalva Rose, owned by Miss Laura Simpson, also did a lovely test of 30.5 followed by a confident double clear to finished 5th in her section.
Hamilton joined the road trip and was very excited to be out at a party again. He did a good test of 32 but sadly just rolled a pole in the Showjumping nonetheless making nothing of the cross country and is definitely ready to get going again.
Next stop Oasby with Creeslough and Eires Rock.
New Arrivals to the Ginny Howe Eventing Yard
The new season has brought two very exciting young horses to the yard. Firstly, Greenlough Dave owned by Mrs Claire Jones, this lovely Harlaquinn Du Carel six year old gelding is certainly a very exciting one to watch.
The second is Lux Royal, a bouncy little mare with fantastic scope, she has previously Showjumped and Ginny now hopes that she will excel with a career in eventing. She has a lot of potential and will also be one to watch.