End of season round up from Ginny, interesting number crunching just for fun  and a review of all the horses from 2015.
Looking forward to an even better 2016!
Well what a season it has been - a few lows but plenty of highs!
I need to begin with thanking my Owners for the wonderful horses I ride, without whom I would not have had such a brilliant year.  The saying of  'You can only be as good as the horse you are sat on!' definitely comes to mind! I have such a brilliant string and they have exceeded all goals and expectations that were first set at the start of the season. Which is truly satisfying and makes the long days, endless training and hard work really worth every second!
Each and everyone of my owners are truly supportive, wanting the best for their horses, and enjoy watching them succeed and fulfil their ability. I feel very lucky!
 Thank you to my Sponsors for their on going support and advice – particularly Mr Peter Haines engineers when I thought I had broken my truck and needed rescuing! I have covered thousands of miles in the time from March to October and it's thanks to them that the horses always travel well and arrive on top form ready to compete!
The Juniper company, have done a great job this season with keeping up to date with the goings on allowing everyone to keep track of which county I've been in with which 4 legged friends through my website!
The Team at home and at events have been just amazing, I really can't thank my fantastic family enough. Mum and Dad for helping and supporting me in every way they can. Mum always making sure the horses look their best and can perform to the best they can! I've lost track of how many plaits she must have done…. It sure is plenty of reels of cotton, that's a fact!
Help at events from everyone has been great this year, Mum especially, with expert navigation and fantastic support at Hartpury to name one. Laura Simpson who has now left me after a busy summer, with plenty of trucking and manic days with early starts. Now back to Uni - to one day get a proper job not just playing with ponies! But she did perfect her quarter markings with plenty of practice!!
Laura Simpson and Jo Jenkins not only have brilliant videoing and photography skills but are so supportive, they have both helped me so much this season, keeping me on track and making sure I get on the right horse at the right time!
Ellen Goodwin has completed her first full season with the crazy team at GHE and she has been invaluable. The horses love her and she really must take credit for how well they have gone this season, she is a fantastic back up and so trust worthy when I am away competing so much.
Jilly Foster, Sally Ball and Jane Coverdale have kept the lovely string sane and sensible giving them lovely chill out time during an intense season, they very much enjoy their hacking time and adventures around the countryside!
A little bit of number crunching just for fun…. 132 starts over 38 events!!
With 12 horses in competition this season, I can certainly tick off plenty of events of all levels from Intro to Advanced/CIC***!
This season has consisted of events across many counties, plenty of motorways and thousands of miles!
Fairly impressed out of those 132 dressage tests I have managed to go the right way in all of them… and know most if not all off by heart! Scoring under 30 in the dressage of 49 occasions!
Obviously there are the 3 phases so I thought it would be interesting to analyse the jumping phases. A total of 77 Clear Show jumping rounds,  110 clear XC rounds, 64 double clears, and 2 falls to add to my record for 2015!
CIC* Qualified- Danetime Panther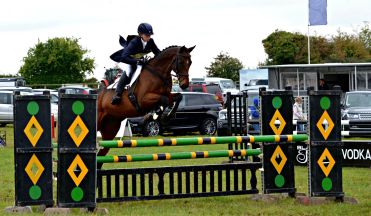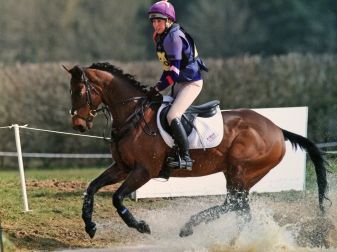 Danetime Panther really has gone from strength to strength and is turning in to a little super star, having been with me for just about 1 year now – arriving having done very minimal pole work and no XC other than his impressive racing career over the bold chase fences. He was schooled nicely on the flat but having not long been out of racing he had lots to learn. Owner Alex Beever has done a fantastic job in turning him from race horse to riding horse. On arrival at my yard Alex wanted to have fun with her beloved thoroughbred, neither of us knew how good he would be or could be at eventing but with little steps and careful management we built a great relationship over the winter on the BSJA circuit. Schooling ever improving and XC never being a problem we decide that eventing would be a great career change for him.
The super smart 11yo gelding took to the circuit so well and quickly showed that he was something very special. In his 13 starts he's accumulated 51 foundation points and completed 2 novices gaining 1 BE point on his first attempt.  His dressage has always been in the low 30's if not the 20's or even teens. He rarely touched a pole and is now qualified for CIC*. He has seen lot in life from his racing days but now with careful management I hope he will continue to have as successful British Eventing career as he did racing!
CCI**** Qualified- Imperato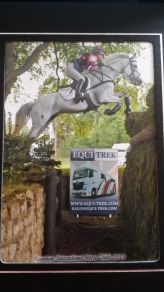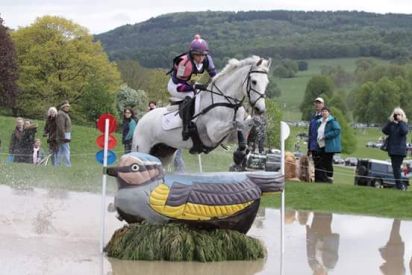 Imperato. This cheeky little grey has been so much fun to have around and ride this year whilst owner Josie Brettell  is looking after baby Benji. I took over the reins on the Cottam family's special horse for 2015.
Set out to upgrade him to his first CCI*** at the start of the season, and along the way jumping a very cool double clear at Houghton advanced set us up in great form ready to tackle the challenging CCI*** Ian Stark track at Bramham near York.
Although the dressage has been somewhat frustrating and judges not always agreeing with Percy's humour, the jumping phases have been fantastic. He's such a bold brave and honest little horse that I'm sure he would jump the moon! Jumping brilliant at Bramham with just one very annoying 20pens when I slightly misjudged the line on a combination towards the end . He show jumped with just a couple of poles but came out with his CCI**** qualification!



CCI** Bound- Foxy Lady V 
 
Who would have thought it…. definitely not us!! This lovely mare who was previously campaigned by one of our Pony Club liveries has certainly been the surprise of the year. My sister Rachael Sheppard took over ownership of the 15yo mare middle of this season with the aim to have some fun with hunting and competing herself at low key dressage. On a rather hasty whim we substituted Foxy Lady  to Little Downham Novice just days before, as Rachael's other mare Eyesnosebest had decided that maybe jumping big jumps wasn't for her after all!
Foxy lady having only competed at BE100 in 2014 – all of which 3 outings double clear. The previous year no competition form. But previously competed at Novice and 1* in 2012. She has gone on to complete 2 CIC** and an intermediate. She has now gained 27 points and is officially an intermediate horse. She has an exciting 2016 ahead of her, with a CCI** planned at Houghton.


CCI** Bound-
About Time Too V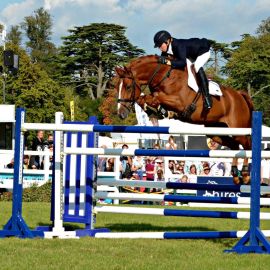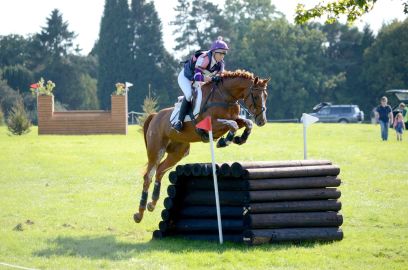 This quirky character with all the talent in the world has shown some serious scope and trainabilitiy this season. Having competed a handful of times by previous owner Charlotte Tyson then turning to show jumping, he decided this wasn't for him. When I began riding him in the early part of 2015  he had not bee XC since a 5yo but he settled straight back into eventing regime.
He has notched up an impressive amount of double clears, with some very promising dressage marks. Upgrading to Intermediate at Aston le walls, where he jumped a perfect double clear. He then contested the CIC**, with a few green moments at Somerford, everything then came together for South Of England where he gained his CCI** qualification. The high light of his comeback was not only this but his High jump debut at Blenheim Horse Trials. Clearing a massive 1.72m with ease!
Next season I hope for him to make the step to CCI** with the ultimate aim of Blenheim CIC*** 8/9yo's.


CVS Indian Summer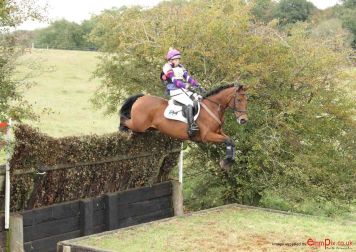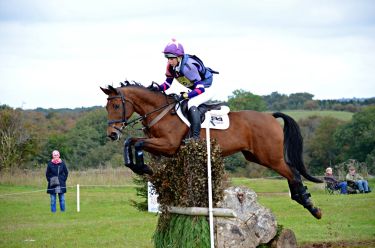 Has had a brilliant season and we have come to a great agreement when it comes to water jumps! We just jump in and have lots of fun!
Owner Claire Foster has produced this mare so well, she came to me at the end of 2014. Claire had taken the mare from nothing to Novice, which was then when she handed me the ride. We had a few creases to iron out but the mare had been produced beautifully and it was just a case of building a good relationship. She has gone on to have many placings this season to include a Win at Aston le walls, 2nd Rockingham Castle and a 5th in the IN at Goring. She then upgraded to intermediate and made the step up an easy one with an unlucky rail and a clear XC at Oasby. I am very much looking forward to an exciting 2016 with her, with a CCI** on the cards.

Knights Escapade              
 
After a fantastic start to our season together to include a win, 3 seconds and a 7th, I was getting very excited about the upgrade to CCI*. Such a brilliant little horse who is trainable on the flat and bold and careful XC. Sadly his exuberance got the better of him just before we headed to the CCI* at Hopetoun. A  silly misjudgement on his part at Little downham resulting in us both taking a fall. This sadly put a halt to his season rather early but no worse for wear he will be back to contest an exciting 2016 where I am sure he will continue the way we were. Such a shame for his owners Jim and Susie Wilson, but this is horses and these things can happen.

An early end to the start of a great season but 2016 will make up for it!


Undalgo De Windsor
                        
My recent purchase has gone from strength to strength. Making the Novice upgrade a very easy one and now we look forward to a CCI* debut.
With 9 Novice placings under his belt, an almost faultless XC record and some very competitive dressage scores he is very exciting for next year. Acquiring 10 BE points this season I very much look forward to his upgrade to CCI* and Intermediate.  Dressage judges love his presenc e and movement, now we just need to contain his focus in the show jumping ring.
CIC** Qualified- Corinthian Clover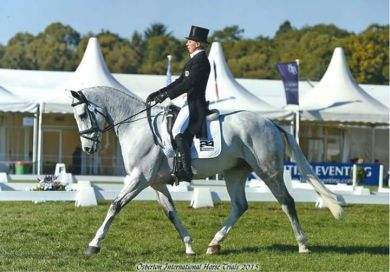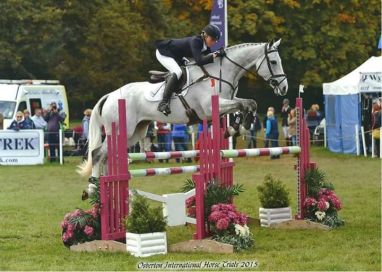 This lovely grey owned by Claire Armfield and ridden also by her daughter Jemima, was a new purchase this season, and what a good one he was!
He produces a really smart test proving rideable and accurate. He has a good careful jump and a pretty much faultless XC record.
He completed his first International CCI* at Osberton, loving every second. Placed very competitively after the dressage and then jumping a super clear inside the time XC to see him placed in the top 15 overnight going into the show jumping. Sadly a couple of poles proved rather expensive but never the less he has come out with a qualification. After a winter of BSJA and BD he is sure to rack up the prizes and make nothing of a 2* upgrade. He notched up a win and several top 10 placings and now stands with 11 BE points.
He also had good runs with owner Jemima Armfield at BE100 level including the more recent run at Smiths Lawn to finish 3rd.
Cruise on Inny- Super smart 6yo completed his first season!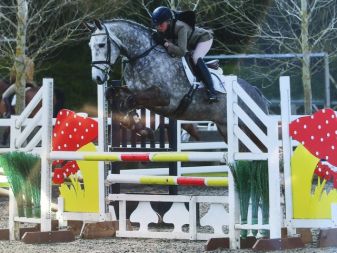 Having never had any eventing experience, this lovely grey came out and exceeded expectations. Bought by owner Nicola Morrison to hack and hunt. I confiscated him and we made our debut eventing together at Aston le walls – where he won!! He then went on to add a few more wins and placings to his card. Not to mention several very impressive dressage scores with lots of 9s and even a 10! He stormed round at BE100 level and then made the upgrade to BE Novice, jumping a double clear in his first novice,  placing 8th on a 29 dressage.
Towards the end of the season we sadly had a few saddle issues meaning we didn't complete as we wanted  but problem soon to be resolved and no doubt he will have more exciting form to come as a promising 7yo.
Shannondale Holly                

 
    
This super little mare I had in to sell on behalf of the owner Nicola Kavanagh, was just brilliant. Scoring an impressive 19 dressage to go on to win at Smiths Lawn. As well as producing some picture perfect dressage tests, of course which the judges loved! She really is so rideable on the flat, and paints a lovely picture. She jumped round some testing BE100 tracks giving me some great rides but now sadly she is sold and goes to a fantastic new home to which I wish them the very best of luck and lots of fun. I am certain they will have a great time together!
Hamilton ...who doesn't appear to want to play all the time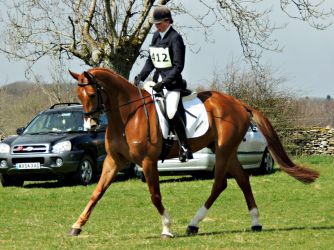 Well, what can I say… mixed season as ever for Hamilton. He began well then decided at Hambleden that eventing wasn't for him…well the SJ part. After trying everything I decided my boyfriend Daniele Bizzarro could take over the ride to see if he might have more effect and less emotional attachement to Hamilton therefore resulting in him behaving and being the super star I know he is capable of…
All going well to begin with, achieving double clears, then on the upgrade to Intermediate sadly Hamilton decided fence 4 in the show jumping just wasn't for him! Totally gutted but this was the end of his eventing for 2015! He has so much talent but it doesn't always show! Unsure to what the next step is… but lots of hunting, teamchasing and maybe the odd BSJA competition. Who knows...
So that is the end to my 2015 season write up, so many exciting things happening and lots to look forward to in 2016. All the horses are set to upgrade and are now currently enjoying some time off before BD and BSJA this winter! As for now… I need to get back to my packing and ready to leave for holiday time!! EXCITED!!! 
THANK YOU SO MUCH FOR ALL YOUR SUPPORT AND HELP EVERYONE!!