Barbury Castle
A fabulous 4 days in Wiltshire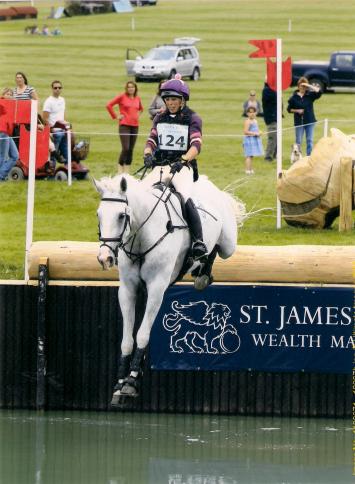 What a weekend for Ginny! She took five horses to Barbury from her least experiences, Hamilton, to her most experienced, Divilabit. 
Hamilton started the weekend off in his first Burghley Young Event Horse 4 year old class. He scored 64 in his dressage proceeded by a good clear around the Showjumping track and trotted up very well for the judges who were pleased with his conformation. Sadly, Ginny will need to put a little more work to get the higher marks before he can gallop for the judges and be with a chance of making the Burghley final.
Ginny's next ride was on Eires Rock, she was thrilled with his dressage which she has worked hard on with Dan Greenwood.  He improved by nine marks scoring a very respectable 55 and just a few silly mistakes to be improved upon for next time. A double clear followed this around a decent 2* course which Eires Rock was happy to take in his stride. 
Creeslough, in the ROR Intermediate Novice, sadly did not have such a great day. He did a lovely test scoring 36 in his first intermediate but had to be pulled up in the show jumping due to an injury. Ginny is keeping her fingers crossed that he will be on the mend soon. 
Divilabit did an accurate test in the 3*however, Ginny was disappointed with the mark which wasn't quite what she had hoped for, scoring 68. Although plenty still to work on, Ginny couldn't help feel that the test was rather harshly marked. He followed this up with just one down due to being a little cheeky on a turn in the Showjumping and the most amazing ride cross country, going all the direct routes round the 3* course. Ginny was so pleased considering he is still only 9 years old.
Gamblers Image also gave Ginny a fantastic ride. After only doing one Novice and an Intermediate as a combination, they boldly took on the 3* track together. He did a good test and was fairly marked scoring 66. Just a few mistakes during the test, including a trot through one of his flying changes, gives him and Ginny plenty to improve for their next event. This was followed by one of his best Showjumping rounds having just one down around the course which was incurring many faults.
His cross country was amazing and a clear was well deserved, they took just one long route at a tricky double of corners.