Blenheim Palace International Horse Trials
And finally the sun shone!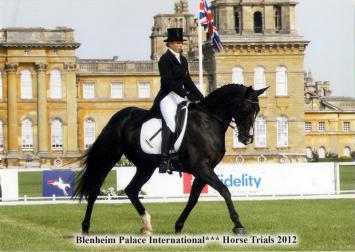 Ginny spent 4 glorious days competing at the Fidelity Blenheim Palace Horse Trials from 6-9 September alongside Olympic medal winners such as William Fox-Pitt, Mark Todd, and Kristina Cook. The surge in popularity for eventing following Team GB's success at the Games coupled with the clement weather ensured a generous turn out.
Highs for Ginny were riding two horses, Divilabit and Kings Fancy. A challenge to some of the world's leading riders, Ginny had a clear round on each horse, a high point especially since she had never taken Kings Fancy on a cross country track! Kings Fancy belongs to Mrs St. Clair Tisdall and Mr Mark Shears and is usually ridden by daughter Laura, but her mother did not want to take any risks prior to her wedding day the following weekend!
Divilabit produced one of his best dressage tests ever, achieving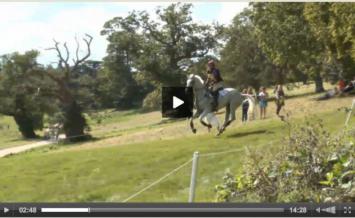 54.6 (55) and Ginny is sure that he will continue to improve. Kings Fancy scored a respectable 57, remaining calm and collected throughout, but the young rider admits that her unfamiliarity with the horse prevented her from pushing for extra marks.
Despite the demands on Ginny's time, she felt very prepared for Blenheim, and was only disappointed when she was not able to present Divilabit at the second trot up on Sunday morning due to soreness, meaning he was unable to complete the competition and gain his much-deserved 4* qualification. This is his 3rd 3* clear at Blenheim.
Ginny says that being a local girl at a local event was "fantastic". Over recent months she has attracted a lot of attention from the local press, including BBC Radio Oxford. Meeting supporters and old Pony Club friends on the day was a bonus.
Ginny has had a busy season leading up to Blenheim and there was no let up last week as she headed to Purston Manor with 3 horses, followed by Moreton Morrell and Osberton CCI** for Creeslough. After that Eires Rock is off to do his first Advanced in the hope of qualifying for Blenheim next year, when Ginny hopes to achieve the elusive 4* qualification for one of her horses