Somerly Park and Belton
A busy few days with some mixed results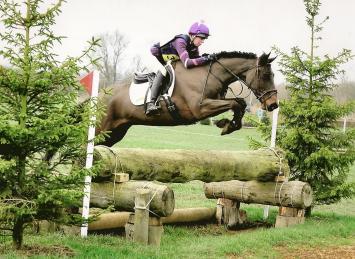 Much to be improved upon at Somerly as Ginny's Novice horses were all very green. Creeslough kicked off the day with a rather tense dressage test but a beautiful clear round Showjumping. He finished with a good cross country round but sadly had a silly run out at the first of a double of skinnies.
Argentinus also had a tense dressage test with a very unlucky pole in the Showjumping. Ginny was absolutely thrilled with his cross country taking everything in his stride including a tricky double of corners which required some accuracy. However, this was brought to an end when he reached a very spooky looking water jump which presented too much of a scare in only his second Novice and second run of the season. Sadly he picked up some penalties here. 
Ginny's next Novice ride was on Archetype, owned by her working pupil Jordann Daniell. After a decent dressage score of 33.8, he met his known nemesis at the coffin which was the third from last jump at the end of the cross country course. Unfortunately, after a very confident clear so far, this saw the end of their round together. However Ginny is certain that some more cross country schooling will sort this out once and for all.
Eires Rock, Ginny's striking chestnut, contended his second ever Intermediate and first of the season at Somerly. Ginny was very pleased with a relaxed dressage test, much improved from Tweseldown, scoring 37 so still so much to improve on. He followed this with a copy book Showjumping round if it wasn't for Ginny's mistake at fence 7; still not knowing exactly which buttons to press Ginny picked up four faults for circling. The cross country was a tough and testing track which required a bold horse and Eires Rock certainly took in his stride. He loved every minute of it and was very keen at times, Ginny was very encouraged by his steady clear round. 
On Saturday, Ginny took Divilabit and Bonne Amie to Belton Park. After a great run at Lincolnshire, coming 11th overall, Divilabit had a very promising day. He scored 35 in his dressage in the very competitive Intermediate class. He had one down at the end of the up to height Showjumping and jumped a superb clear in the cross country with just 12 time faults – all in all a very good result. 
Unfortunately Bonne Amie was still very shaken from her fall at Tweseldown. Her dressage was tense in parts but good in other parts and she knocked the last element of a triple in the Showjumping. Sadly the cross country did not go as Ginny had hoped and her previous fall at the sunken road has damaged her confidence a little. However, Ginny is confident that some more cross country schooling will repair her confidence in time for Burnham Market in mid-April. 
Next run is at Weston Park with Eires Rock and Ginny is really looking forward to the day after his improvements at Somerly.