Victory for Ginny at Purston Manor
There was plenty of sporting action in the Banbury area for fans last weekend, both the Silverstone Grand Prix and Purston Manor Horse Trials took place less than 15 miles from each other. This was fantastic for Ginny who had no less than four horses running over the two days of glorious sunshine.  The beautiful event held in the grounds of Purston Manor, was a lovely venue and the hard work of the course builders, organisers and volunteers helped the event to run effortlessly.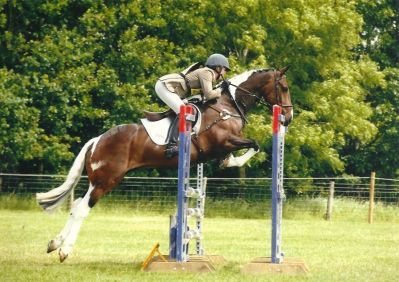 On the first day, Ginny had Bobby Dazzlerman, owned by Sarah Inwood, the Landlady of The White Horse Inn at Duns Tew, and Strattonstown Smartie owned by Miss Millie Kaye. Both Sarah and Ginny were delighted when Bobby Dazzlerman performed beautifully in his competitive class scoring a mark of 30 in the dressage and adding no penalties to this low score in the Showjumping and Cross Country phases. Bobby Dazzlerman and Ginny stormed to victory beating forty other competitors to the much revered first place. The six year old coloured gelding is a new ride for Ginny having previously had very little form other than a few events as a four year old.
Ginny's second ride of the day was the newly purchased Strattonstown Smartie. He has previously had only hunting form until last Saturday where he competed in his first ever event. Ginny took him straight in at BE100 level where he scored 30.5 in the dressage followed by a great double clear inside the time to finish seventh.
On the second day, Ginny took out her two Novice horse. Firstly, Greenlough Dave, owned by Mrs Claire Jones, was seeking his fifth novice run and the penultimate event before his one star as Ginny hopes to have him running at Hartpury CCI*. He scored 35 in the dressage followed by a great double clear inside the time to finish ninth in his section.
Ginny's last ride of the weekend was Zztop, owned by Miss Sarah Jane Ford. The coloured gelding was competing in his fourth ever event and his first ever Novice. He was not his most cooperative in the dressage which was a shame as he was placed second in his last outing. The result was a higher than usual score but followed by a lovely double clear inside the time finishing in the top twenty of his section. 
All in all a great weekend for a local rider, with local horses, local owners, local sponsors at a local event! Next stop, Barbury International Horse Trials with Eires Rock and Creeslough, fingers crossed for another successful event!