The Stallion Company - Royaldik,  Grafenstolz and Parco
Ginny was thrilled to be asked by Ken Rehill from The Stallion Company to ride a few of his stallions last week. Leaving at the crack of dawn, she left Four Winds to meet the sire of Time to Cavort, Royaldik as well as Grafenstolz and Parco.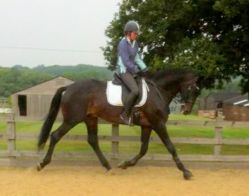 First to be ridden was Grafenstolz, who is truly a class horse. His beautiful paces and stunning confirmation meant he was a dream to ride. Ginny commented that he found his one-time changes particularly easy, not to mention his half passes in trot and canter too.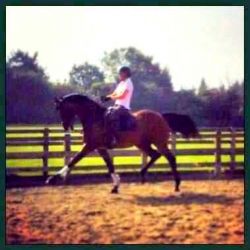 Next out was Royaldik and wow! Ginny felt so lucky to sit on him - not quite like anything she has experienced before. He is a real character and clearly loves to show off his passage and piaff which are next to none. Ginny experienced an incredibly active piaff to full blown extended trot with such power, she remarked that her boys at home are now in training and will be watching the videos to see how it's really done! To top off her ride a 1.55m oxer was erected and Ginny was given the opportunity to jump Royaldik who politely cantered to the fence in just a snaffle with so much scope that Ginny felt like she was jumping a cross pole. Fingers crossed that Time to Cavort takes after his dad!
Ginny's last ride was on the 21 year old former Olympic Showjumper, Parco. It was credit to see him let alone jump him and Ginny felt privileged to ride a true gentleman.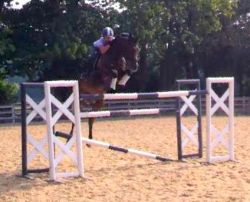 Following a fantastic session with Graf and Royaldik, Ginny has now been asked to ride both in the Stallion Parade at Burghley this Friday 6th September.  With a 1.60m oxer to jump on Royaldik it will be a good warm up for Blenheim!
With thanks to Ken Rehill for this privileged opportunity.