Rockingham Castle International
A busy 3 days were set to be had at the beautiful Rockingham Castle. With Shannondale Sparky competing in his first CIC*, and Raratomba, Eyesnosebest and Strattonstown Smartie in the Friday BE100.
All 3 BE100 horzes were on best behaviour, Raratomba who is in to sell did an accurate test for 34, followed by lovely double clear. Eyesnosebest in her first BE100, and only 3rd event did a great test for 33, loosing marks sadly at the end for the odd mistake. She then proved bold and brave and jumped a great double clear. Strattonstown Smartie was rather bouncy in his test and so scored 36, but again he too finished on his dressage score.
Shannondale Sparky really did excel and point his toes in the far more complicated 1* test. He was so rideable and did not seem bothered at all by the hectic , and intense atmosphere of the event. He felt very grown up in the international arena surrounded by spectators and shops. There were just a couple of mistakes but he scored a great 46, lying in 8th place over night. The show jumping was up to height and causing it's fair share of problems. Sparky jumped well, again blocked out the atmosphere to jump a careful clear round. The CIC* XC asked plenty of questions, but it was beautifully built and the ground was perfect. The water in particular was spooky and has often caused problems. Sparky felt great, initially Ginny set out not going for the time, as it was his first serious run but he felt brilliant and was taking everything in his stride. She pushed him on slightly and he was amazing. He was extremely genuine at one fence in particular, seeing a rather forward stride to a skinny triple brush it was then Ginny felt him seriously operate! Adding just 3 time faults to his dressage he finished 7th in the competitive section and Ginny could not have been more thrilled with him. He is now heading to Chatsworth CIC*.

Day 3 of Rockingham with Eires Rock and Hamilton doing his first intermediate and an aim to make it a 6 out of 6 double clears for the duration of the event! Hamilton did a beautiful test for 34, really getting the hang of the more technical movements, followed by a great clear SJ, again this had been causing many problems during the morning. Then unfortunately not the best result XC, he misjudged the Castle fence with a roof, trying to duck because of the roof and forgetting about the up to height 5 bar gate that needed jumping, catapulting Ginny out of the saddle at this point.  This was gutting as they were lying in the top 3 going into the XC but at the same time this was a silly but easily rectified mistake of a green horse.
Eires Rock also did a nice test for 34, and a clear SJ to make it 6 out of 6 clear over the coloured poles for the weekend. XC he was rather naughty at the spooky water jump picking up a frustrating 20 penalties but went on to jump the rest of the course well.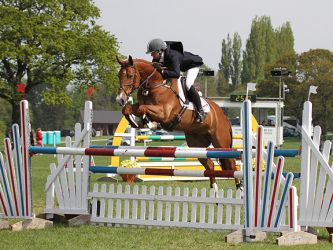 Hamilton in the Intermediate class