Central Horse News
July 2012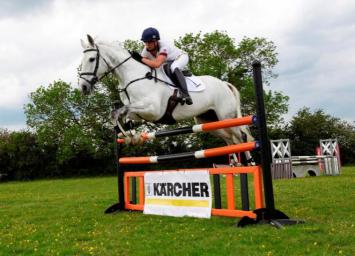 Kärcher (UK) Ltd and The Juniper Co are proud to announce their sponsorship of local Oxfordshire event rider, Ginny Howe. At only 24 years old Ginny has already completed Badminton Horse Trials and competed at an international level for her country and is regarded as one of the UK's most promising eventing talents.
Starting as a member of the Heythrop Pony Club, Ginny has successfully progressed through Juniors and Young Riders. Now regularly competing at 3* and 4* events, Ginny has recently acquired a new advanced level horse to join the seven eventers at her rural yard. Valentino Vollante (pictured), will accompany Ginny's other top grey horse, Divilabit, in hopefully securing Ginny a place in the 2016 Olympics.
To ride at the Olympics would be a dream come true and a win at Badminton would be very special too, however, Ginny warns it's not as easy as she makes it look."It's all worth it when it goes well, but horses are horses and top level eventing requires hard work and determination" says Ginny.
Ginny trains regularly at Lyneham Heath Farm and Washbrook Farm. Show jumping in the winter months also keeps her horses in peak condition and helps maintain their schooling, and is particularly beneficial for the younger horses.
Kärcher's new partnership with Ginny is the first time the Banbury based business has been involved with an equestrian sport in the UK. Kärcher have a fantastic range of products to help you easily keep your yard and horse box or trailer clean, safe and tidy. The Kärcher Professional High-Pressure Cleaners are Ginny's favourite.
For more information about Kärcher, please visit www.karcher.co.uk.
Don't miss the opportunity to follow Ginny and her horses in action at local events this summer! Ginny is in the middle of a busy and exciting season, with her sights set on Blenheim Palace International Horse Trials in September. Find her at:
Upton House, Oxfordshire 11th-12th July
Aston-le-Walls, Northamptonshire 20th-22nd July
Purston Manor, Northamptonshire 4th-5th August
Hartpury International, Gloucestershire 9th-12th August
Blenheim Palace International, Oxfordshire 6th - 9th September.
For the latest news visit the Central Horse News website