Beautiful Belton with the big boys
Creeslough, Gamblers Image and Eires Rock contested in the Intermediate at Belton.
Creeslough did a lovely test scoring 33, a couple of mistakes meaning we missed the high marks but never the less a very respectable score. He then jumped so well and to produce a great double clear. Feeling full of running, bold and careful with only 2.8 time penalties to add to his dressage score. He finished 5th in this competitive section.
Gamblers Image could not have been on better form, he is looking and feeling fantastic, doing a lovely test, again with a mistake or two but still scoring 28 against a very hot section. He had a couple of poles down but flew XC adding adding just a few time faults to finish 10th.
Eires Rock was a little uptight but remained settled for his test, a huge improvement on last year and becoming much more rideable. scoring a 34. Sadly it was not his day in the jumping phases and after not feeling his usual pocket rocket self in the show jumping it was decided he would be saved for another day.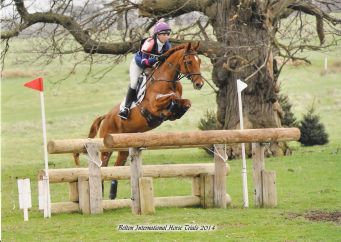 Creeslough on his way to 5th in the intermediate