Pontispool and Aston
Five double clears and counting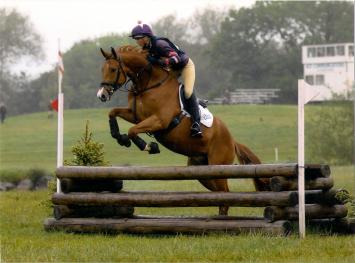 May Bank Holiday couldn't have gone any better for Ginny. Whilst most people try to relax for three days after a hard week at work, Ginny successfully completes no less than ten clear rounds.
The weekend started at Ponispool with Divilabit and Eires Rock in the Intermediate and Creeslough in the Novice. Although Divilabit did a very stiff test, scoring just 39, he more than made up for it in his cross country. Ginny's instant thought was that he felt like an absolute machine, proving that he has come back to fantastic form. A well-deserved third rosette was achieved at the end of the day, a very pleasing result for Ginny.
This was only Eires Rock's second Intermediate so Ginny was very pleased with his dressage score of 35. This was followed by a double clear, good in the cross country if a little green at some of the steps but still very keen. Unfortunately a few too many time faults put him just out of the top ten placings.
Creeslough did a rather babyish dressage test with a few wobbles and spookes which gave him 39. However, he followed this up with an immaculate Showjumping round and a great clear cross country. This put him in good stead for ninth place at the end of the day.
On Monday, Ginny headed to Aston Le Walls with Argentinus in the Pre Novice and Hamilton in his first ever event in the Intro section.  Considering the terrible conditions and the howling rain, his dressage score of 41 was very pleasing. This was followed by an amazing clear round Showjumping and he showed everyone up by doing a very professional clear cross country around a testing course, up at maximum height. Hamilton could not have gone any better and Ginny cannot wait to have another go in his next event.
Finally, Argentinus had a good run in the Pre Novice which was his first outing for a while. A little scared of some unfortunate yellow umbrellas gave him a dressage score of 36 which was followed by fabulous double clear and a good seventh place.
So a very successful bank holiday weekend for Ginny, totalling five double clears on the trot! Divilabit now has a total of 42 BE points, Creeslough six and Eires Rock 33.