A day at Ginny Howe Eventing
A visit from the BBC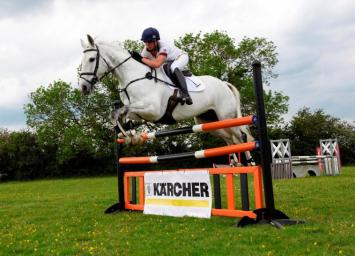 On Tuesday 30 May 2012, Ginny Howe Eventing and her sponsors Kärcher (UK) Ltd and The Juniper Co held a press invitation day to take a behind the scenes look at Ginny's yard. The BBC and local reporters joined Ginny for interviews and a glance behind the stable door of her top eventers.
The press were able to meet Ginny's horses bound for Blenheim International Horse Trials including Blenheim veteran Divilabit who has competed there for the last two years and latest edition to the Ginny Howe Eventing yard, Valentino Vollante, who will be out over the summer aiming to get his Blenheim qualification.
Ginny took the opportunity to announce her new sponsor, Kärcher - one of the biggest and well-known local employers. Simon Keeping, the Managing Director of Kärcher, said "Ginny is always positive and enthusiastic yet very professional in everything she does. Those values sit very well with Kärcher and together I hope we can be a serious feature during this season's events".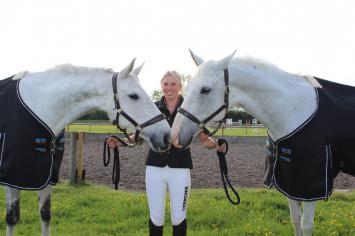 Ginny comments: "It was wonderful to be able to meet some of the local press, it is important to eventing that we can promote the sport to the community in order to keep a strong profile. I look forward to seeing more of the press at events this summer during what is a great year for sport in the UK".
In June Ginny will head to her local event at Great Tew which she aims to take four of her horses to. This will be great preparation for Blenheim in September where Ginny is a popular local competitor.
Kärcher will also be at both Great Tew and Blenheim where they continue to support the local community and our British equestrian athletes through their sponsorship.
Managing Director of The Juniper Co, Nicki Kavanagh, said "It is fabulous to continue to work with Ginny and now be a sponsor alongside Kärcher. We had a very enjoyable afternoon as we got to see Ginny and new horse Valentino Vollante in action around her showjumps at home. Ginny is always inspiring to watch and we are looking forward to an exciting season ahead!"