Blenheim Palace International Horse Trials
What an incredibly exciting week – Ginny now has two 3* horses!
It was also great to also see Ginny's fabulous sponsor, Kärcher (UK) Ltd have such a huge impact on the prestigious horse trials. This year they also sponsored the infamous water jump, Ginny commented that it was lovely to have them in the heart of the action and to be able to watch her on both Eires Rock and Creeslough. Ginny wished to reiterate a huge thank you to all her Sponsors for their incredible support – without which she would not be eventing so successfully.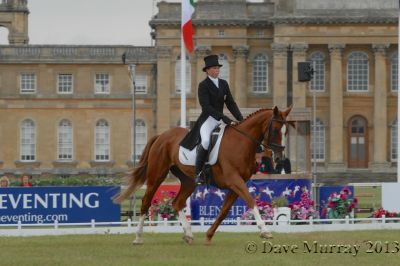 Ginny had both her dressage tests on the Friday. Eires Rock competed in the CCI***, he did a respectable dressage although Ginny was somewhat disappointed with the mark. He managed to remain calm and cooperative throughout the test with a few mistakes but everything heading in the right direction. He now has a winter of dressage to look forward to and no doubt we will see some great improvements ready for next season.
Creeslough coped really well with the atmospheric arena with lots going on but he kept focused and just lost some marks for movements not quite established yet. Nevertheless, he scored 57.3 which was brilliant for a first time 3* eventer and has got plenty of room for improvement.
Saturday was cross country day for Eires Rock and Showjumping day for Creeslough. The Challenging cross country meant that it was not set to be a dressage competition. The undulating ground and technicality of the fences certainly caught enough competitors out with very few faultless rounds - many as soon as the corners in the CCI*** at fence five.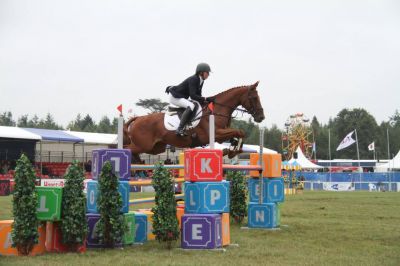 Eires Rock was incredible around the cross country and took on everything like a pro, it was his first time at this level and even lost a shoe at fence five but continued to go clear just picking up time faults. He finished fantastically and will have come on a lot from his run.
Creeslough Showjumped very well in an atmospheric arena and up-to-height Showjumping course; he rolled just a couple of poles but coped very well.
On the last day the roles were reversed. Creeslough completed a fantastic cross country round in the CIC***. The course was a very similar but shortened version of the CCI. Again, new to this level, he took everything on, and at standing at 15.2hh he made it feel easy. Sadly he was just caught out by the first brush corner after a silly slip. However, he went on to fly round the remainder of the course taking it fairly steady and enjoying the confidence the run gave him.
Eires Rock went on to Showjump well sadly just having a couple of poles down but Ginny was very happy with his performance to finish 42nd in a competitive CCI*** section.
All in all, it was a fabulous week for Ginny and indeed for all those who supported Ginny Howe Eventing at her local event.