Little Downham and Ascot-u-Wychwood
Ginny had a fabulous weekend with events on both Saturday and Sunday and several horses running and coming home with double clears and in the prizes.
Little Downham
Ginny ran Creeslough, Hamilton and Greenlough Dave in the Novice class and took her exciting new ride Zztop TO his first ever event at BE100 level. The ground at Little Downham was perfect and the course looked fantastic.
Creeslough scored 33 in his Novice dressage test, he had anticipated there to be much harder movements that weren't needed but Ginny was pleased that he felt back to himself. He then jumped a lovely double clear and made the cross country feel very easy to finish in fifth place. Certainly ready to make the step back up to intermediate and 2*, Ginny now hopes to aim him at Barbury International Horse Trials next month.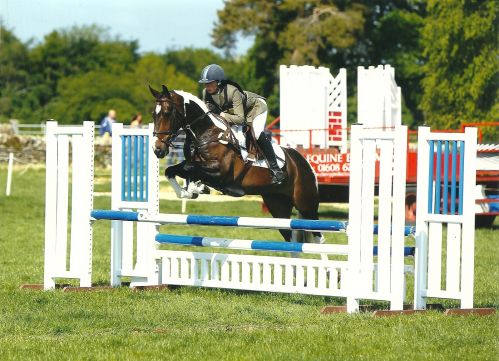 Greenlough Dave had a lot of preparation for the tricky novice test to give him as much exposure to the movements that are still very new to him in competition. He is improving so much every week; he tried his hardest and managed the newly accomplished rein back. Even though he decided to show it off in the final halt, Ginny was really pleased with his progression. The jumping phases are certainly his favourite bits which he proved in both phases although sadly just rolling one pole in the Showjumping through a bit too much enthusiasm.  Nevertheless, he was a machine cross country jumping all the direct routes, loving every minute of it.
Hamilton slightly redeemed himself after his 1* dressage at Rockingham International Horse Trials. It was not his best but back to a more reliable test without Ginny's tail coat. With a little more jump in his movements, Ginny hopes that his next test will be somewhere in the middle between the last two. His dressage was followed by a fabulous double clear to finish eighth in his Novice section.
Lastly, patiently waiting for his BE100, Zztop undertook his first ever event and dressage test. He was brilliant! He coped well with the new atmosphere making a few mistakes but scoring 35 in the dressage. No doubt there will be some exciting scores to come in the future. He went on to jump a great double clear and took everything in his stride finishing eleventh in his section. Ginny is sure he will upgrade quickly and will be very exciting for the future. 
Ascot-u-Wychwood
Back on the road the following day, Ginny headed to the Howe's local event with Bobby Dazzlerman and Maisie II both to compete in the Open Intro.
It was Bobby Dazzlerman's first event for two years when he last competed lightly as a four year old and Maisie's first ever event and they were both fantastic.
Starting the day well, Bobby Dazzlerman did a lovely test to score an impressive 27.5 in the dressage and completed on his score after a great double clear to finish fourth in his section.
Maisie II followed in his path to score a 32 in her dressage test with just a few mistakes but overall a pleasing test. She then jumped very well and completed with a double clear to finish ninth in her section.
Ginny is excited to have two very promising six year olds who now upgrade to BE100 at Mattingly on 8th June. 
A great weekend, securing prizes and lots of double clears!