BSJA at Addington
Off to a flying start...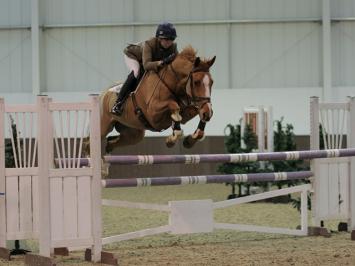 It was an exciting day at Addington. Eires Rock, Ginny's secret weapon for 2011 and beyond, had his first outing jumping a lovely double clear in the 1.05m and just rolling one rail in the Newcomers. Ginny is still learning which buttons to press but he is so polite to ride and it takes a little getting used to after some of the other gang.
Creeslough, despite trying to put Ginny on the floor on a number of occasions in the warm up, certainly made up for his bad behaviour. He jumped a double clear in the 1.05m and had just two down in the Newcomers.
Angellus was not on top form sadly, getting a little above himself and feeling rather cheeky. He was naughty in the first round but improved for the second round.
Lastly, the bouncing rubber ball Bonne Amie, had her first BSJA outing since Blenheim and was on amazing form! She was fantastic and jumped more than a foot above everything. She jumped a double clear in the Newcomers and had just one rail down in the 1.15m when the excitement of being at a jumping party was just too much.