Oasby Intermediate- 9/3/17
So after a very exciting winter of lots of BSJA with the horses almost every time coming home in the money and accumulating many of their double clear qualifications towards second rounds. We swapped the bling.. for not so bling and the lovely surface for well.... mud! The first event for me was supposed to be Aston le walls with a lorry full but due to the weather being rather unhelpful the start of the season for us was slightly delayed to Oasby.
CRUISE ON INNY - 8th, TRENDY CAPTAIN CLOVER -2nd
On 9th March we headed up towards Grantham to the lovely Oasby Horse Trials. Being some what 'punchy' for start of this season especially missing the run at Aston i had 3 intermediates, 2 of which are fairly inexperienced at this level  and it was a big ask to start out at this level.
Undalgo De Windsor having competed at ** last season knew what it was all about but Cruise On Inny fairly newly upgraded and the first time Intermediate, 7yo Trendy Captain Clover. Cruise On Inny, did a very nice first test of the season, a little excited at times but some really nice work, scoring a respectable 31.4. He followed this up with a very impressive clear SJ, and flew round XC. He went on to finish 8th after adding a few time. A great run ahead of Belton in preparation for his CCI** debut at Houghton. Undalgo De Windsor did one of his best tests, super chilled and accurate, scoring a slightly harsh 33 but very happy for his first test of the season. He had a very unlucky 4 faults and also went on to fly XC, going clear and feeling particularly bold and enjoying his outing. He finished just out of the top 10.
Trendy Captain Clover, exceeded all expectations. This lovely 7yo in his first intermediate could not have run better! Leading the dressage on a 25! He then jumped a perfect double clear, making it feel very easy. He lost the lead due to a couple of time faults due to not pushing him as it was his first run at this level, he placed 2nd. He has a very exciting future!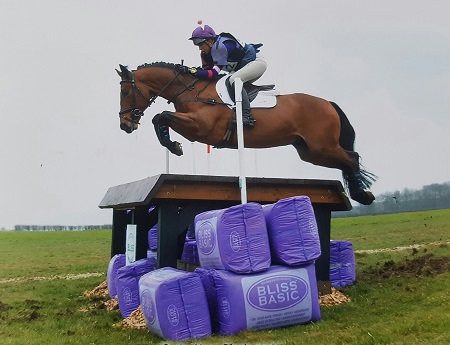 Trendy Captain Clover flying in his first intermediate!